South Korean film "Parasite" makes history at 92nd Oscars
2020-02-11 02:19:08 GMT
2020-02-11 10:19:08(Beijing Time)
Xinhua English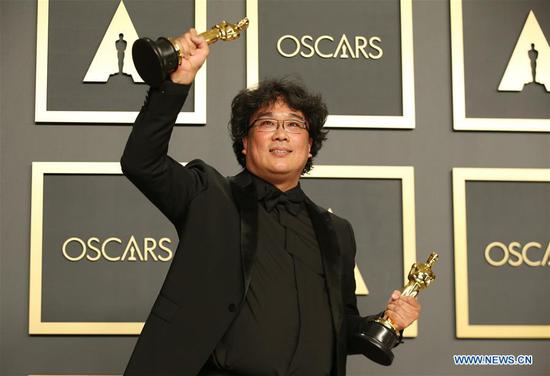 Bong Joon-ho poses for photos at the 92nd Academy Awards ceremony at the Dolby Theatre in Los Angeles, the United States, Feb. 9, 2020. South Korean black comedy "Parasite" turned out to be the biggest winner at the 92nd Academy Awards ceremony on Sunday night. Besides nabbing Best Picture, the genre-bending class thriller also won Best Director for Bong Joon-ho, Best International Feature Film and Best Original Screenplay. "Parasite" also made history at the 92nd Academy Awards by becoming the first foreign-language film to win best picture. (Xinhua/Li Ying)
LOS ANGELES, Feb. 9 (Xinhua) -- South Korean black comedy "Parasite" made history here at the 92nd Academy Awards on Sunday night.
"Parasite" became the first non-English language film to win the Oscar for best picture, and also nabbed awards for best original screenplay, best international feature film and best director for Bong Joon Ho.
The commercially viable and adroitly written drama on the weighty subject of class warfare follows the members of a poor household scheming to become employees of a much wealthier family by posing as unrelated, highly-qualified individuals.
Though many consider "Parasite" a surprise winner in the best picture category, upsetting heavy favorite Sam Mendes' World War I epic "1917," the many prestigious awards the class satire won prior to the Oscars illustrate its popularity and strength.
It won the Cannes Film Festival's Palme d'Or, a Screen Actors Guild Award, a Golden Globe, two British Academy Film Awards, a Writer's Guild of America Award and an American Cinema Editor Award.
The acting awards of this year's Oscars followed the script.
Joaquin Phoenix won Best Actor for his performance as a loner clown in psychological thriller film "Joker." This is Phoenix's fourth Oscar nominations but first win, beating out strong rivals including Antonio Banderas ("Pain and Glory"), Leonardo DiCaprio ("Once Upon a Time in Hollywood"), Adam Driver ("Marriage Story") and Jonathan Pryce ("The Two Popes").
Renee Zellweger took home the Best Actress Award for her performance as famed U.S. singer and actress Judy Garland in the biographical drama film "Judy." This is Zellweger's second Oscar win. She previously won Best Supporting Actress in 2004 for her role in the epic U.S. Civil War romance "Cold Mountain."
Zellweger beat out Scarlett Johansson ("Marriage Story"), Saoirse Ronan ("Little Women"), Charlize Theron ("Bombshell") and Cynthia Erivo ("Harriet"), the only woman of color nominated for an acting Oscar this year.
Brad Pitt nabbed the Best Supporting Actor award for his role in the film "Once Upon a Time in Hollywood" after defeating "The Irishman" duo Al Pacino and Joe Pesci, Tom Hanks ("A Beautiful Day in the Neighborhood") and Anthony Hopkins ("The Two Popes").
Pitt failed to win an acting Oscar with three previous nominations. He won a Best Picture Oscar for producing "12 Years a Slave" in 2014.
Laura Dern took the gold statue for Best Supporting Actress for her performance as Nora Fanshaw, a high-powered divorce lawyer in "Marriage Story."
It was Dern's first Oscar win, beating out Kathy Bates ("Richard Jewell"), Scarlett Johansson ("Jojo Rabbit"), Florence Pugh ("Little Women") and Margot Robbie ("Bombshell").
The 92nd Academy Awards were held at the Dolby Theatre in the U.S. city of Los Angeles.