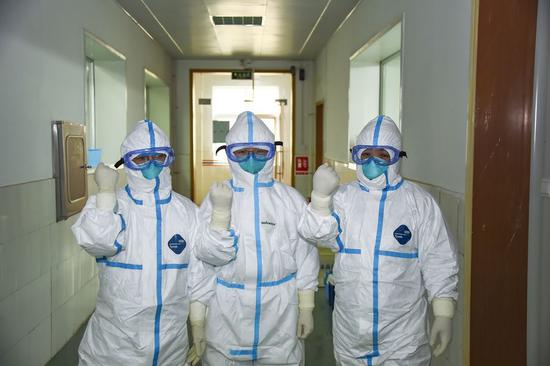 Cao Ting (C) and her colleagues cheer themselves up before entering the laboratory of Xiaogan's center for disease control and prevention in central China's Hubei Province, Feb. 14, 2020. (Xinhua/Hu Huhu)
BEIJING, Feb. 16 (Xinhua) -- The international community has spoken highly of Chinese President Xi Jinping's emphasis on improving the mechanism for major epidemic prevention and control, saying such a move will further enhance the country's governance capacity, which is of great significance to China and the world.
While chairing the 12th meeting of the central committee for deepening overall reform on Friday, Xi, also general secretary of the Communist Party of China (CPC) Central Committee and chairman of the Central Military Commission, stressed improving the mechanism for major epidemic prevention and control and the national public health emergency management system.
Ren Minghui, assistant director-general for Universal Health Coverage/Communicable and Noncommunicable Diseases of the World Health Organization, said Xi's proposal to strengthen China's ability to prevent and control major epidemics from the perspectives of mechanism and legislation is encouraging.
It shows China's efforts to improve its national public health emergency management system in the form of laws in preventing and controlling infectious diseases, and that China shoulders its responsibilities as a major country, which are of great significance to China and the world, Ren added.
Hailing China's "resolute and decisive measures" taken to prevent and control the COVID-19 as "really impressive," General Secretary of the Egyptian Communist Party Salah Adly said the proposal by Xi and the Chinese government to improve relevant management systems, laws and regulations to prevent such disease in the future fully reflects the image of China as a responsible major country.
COVID-19 is a non-traditional security challenge and a major issue mankind is facing, said Hwang Jaeho, dean of the division of international studies at South Korea's Hankuk University of Foreign Studies.
Through the fight against COVID-19, China will further promote the modernization of its governance system and capacity, and boost relevant exchanges and scientific research cooperation with other countries, Hwang said.
Xi's stress on including biosecurity in the system of national security can help the society take the best response measures timely and orderly when similar situations occur in the future, said Zhao Jun, professor of Japan's Chiba University of Commerce.
The emphasis on speeding up establishing a law on biosecurity, which will improve the system of national security, not only marks China as a responsible major country, but also interprets Xi's vision of building a community with a shared future for mankind, said Wang Quancheng, president of the Hua Yuan Association, a non-profit organization serving a new-generation of Chinese immigrants in Singapore.
Bai Yi, president of Mexico's Yucatan Peninsula Chinese Association, said that improving the mechanism for major epidemic prevention and control will allow China to deal with major public health events more calmly and effectively, and that including biosecurity in the national security system will help safeguard the Chinese people's health and the country's long-term stability, which are very important to China and the world.
The measures the Chinese government has taken to improve the mechanism for major epidemic prevention and control and the national public health emergency management system are very timely and necessary, said Li Changhong, executive vice chairman of Kenya Chinese Chamber of Commerce.
It will improve China's ability to respond to epidemics in the future, reduce the impact of the epidemic on economic development and people's livelihood, and provide experience in response to epidemics for Africa and other underdeveloped countries, Li added.
It is a correct step for China to take biosecurity into its national security system, said Volker Tschapke, honorary president of Germany's Prussian Society, adding that it will raise awareness of biological risks among government officials at all levels and the public.
"It's a wise decision. The mechanism may prevent and stop potential virus outbreaks," said Tschapke.
Tursunali Kuziev, a professor at Uzbekistan State University of World Languages, said Xi's move fully demonstrates that the Chinese government attaches great importance to people's lives, health and safety, and once again shows the strength of China's national system to focus on major tasks.
Calling the international community to work together to deal with the epidemic, Tursunali expressed his firm belief that "the Chinese people will win the battle for the prevention and control of the epidemic."